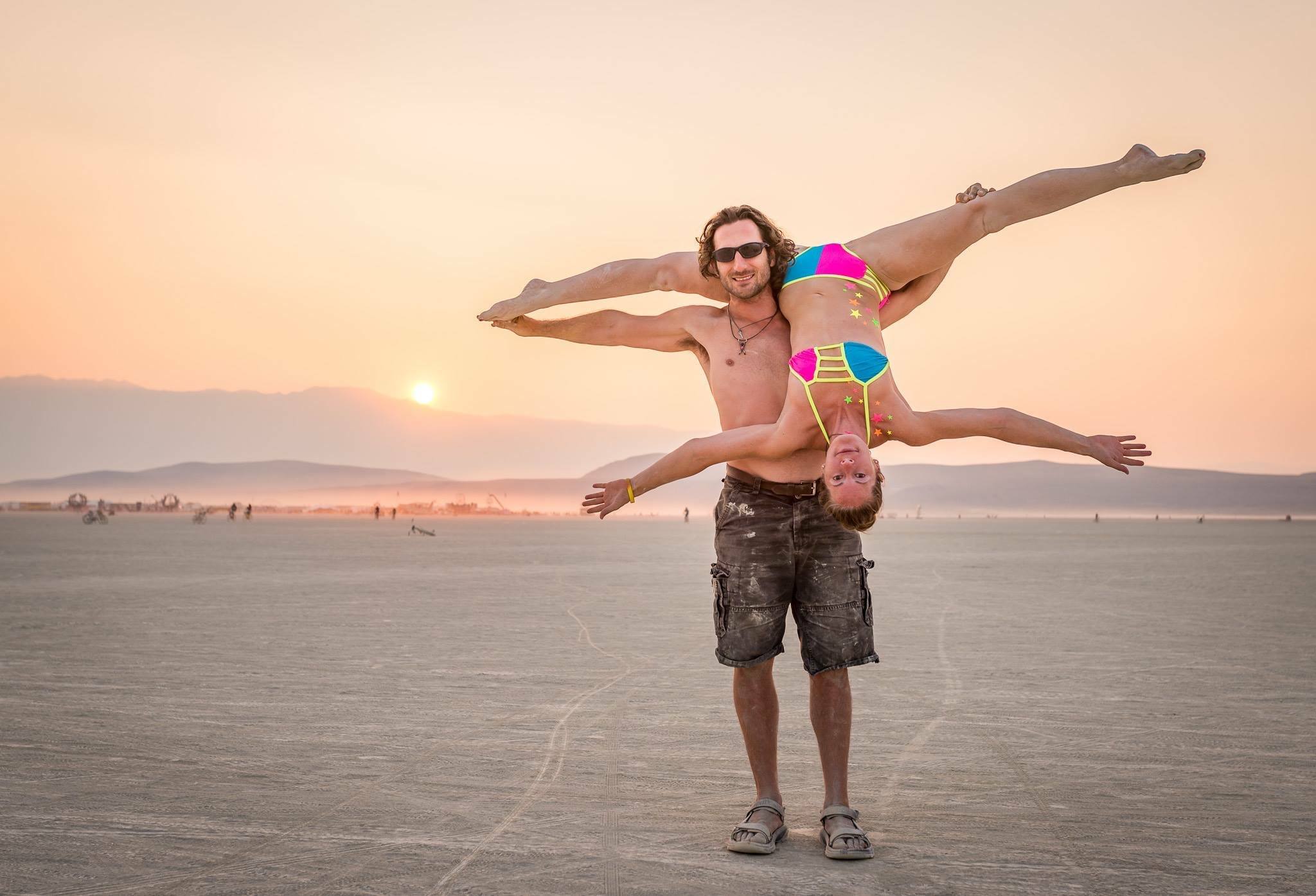 acob and Debbie are teaching a 3 day intensive in Atlanta, Georgia.
Session 1: Washing Machines
Date: March 13th
Day:Friday
Session Time: 7-10
Prerequisites:
Barrel Rolls, High Barrel Rolls, Ninja Stars,

Side Stars

Description: Acrobats underestimate the importance of washing machines. After all, Jacob and Debbie fell in love with acro and with each other while doing them. Through the study of these machines you build up a movement vocabulary which transfers into other areas of acro. Experienced l-basers can flow seamlessly from one pose to the next in complex acrobatic arrangements. We have a good one planned. It is beautiful, complex, and challenging, our favorite kind.
___________________________________________________
Session 2: Whips
Date: March 14th
Day: Saturday
Session Time: 6-9
Prerequisites: Tarzans, Reverse throne whip with hands
Description: Whips are possibly the most exciting type of L-Base. Flyers whip through the legs of the base very quickly. This takes great skill from base, flyer, and spotter. Jacob and Debbie will ensure that you are challenged in a safe environment.
___________________________________________________
Session 3: Icarian
Date: March 15th
Day: Sunday
Session Time: 3-6
Prerequisites: Bird Pops, https://tinyurl.com/y2etynue
Throne Pops, https://youtu.be/1gbFi-kMOgo
Description: Icarian is named after Icarus from the greek myth of Daedalus and Icarus. Icarus is the one who flew too close to the sun. Don't worry. We will use spotters! Icarian is full release, meaning it is the most exciting type of acro by far. Debbie and Jacob have been doing a lot more icarian lately. Along the way Jacob and Debbie have learned effective ways to teach icarian to new students.
____________________________________________________
**Lunch 6-7:30PM**
Session 4: Dance Lifts
Date: March 15th
Day: Sunday
Session Time: 7:30-10:30
Prerequisites:
2 High,

Cartwheels, https://youtu.be/NacjkohCpfg
Description: Jacob and Debbie have poured through the internet and learned from many teachers to find all the best dance lifts! This is an entirely different kind of acro. In standing acro there are a lot of static holds. The flyer moves up and down in ways similar to how a weightlifter does a power clean. Dance lifts are different because they use momentum to lift the flyer up and down in more graceful movement, similar to ballet. In this class you will first practice individual dance lifts and later put them together into a flow.
This is an intermediate workshop. Check the prerequisites for each class. Message us if you have questions.
If you are flying to attend this workshop we recommend you get flight insurance in case of the small chance that attendance is low and we have to cancel. We will know for sure by the end of the early bird which is Feb 15th. We need a minimum of 12 people to guarantee that this workshop happens.
You can help make this workshop happen by signing up early. This helps us in two ways: It helps us pay for plane tickets and we know who is coming so we can personalize the material. If we get enough people you get an awesome workshop and if we cancel you get a full refund. Win Win.
Investment
Early Bird Ends Feb 15th
Full Workshop Early Bird $180
Single Session Early Bird $50
Full Workshop Late Bird $200
Single Session Early Bird $55
You get a discount if you pay early and if you attend all classes. It is, of course, okay to come to 3 or fewer if necessary. If you are paying for 3 or fewer sessions you pay the single session price for each one.
Payments
Venmo (preferred)
@JacobBrownacro
Venmo Email: noblenutria@gmail.,com
Paypal
@jacobbrownacro
Paypal Email: noblenutria@gmail.com
Remember to send as friends and family
If you want to pay with a credit or debit card you can pay here
https://jacobanddebbieacro.square.site/product/jacob-debbie-acro-workshop-in-atlanta/7?cs=true
When paying please leave a note in Paypal or Venmo with the name of the event, Your name as it appears on facebook, what sessions you are going to, and mention if you are paying for someone other than yourself. Should look similar to this.
Jacob and Debbie Acro Workshop in Atlanta
Jon Snow
Attending all Sessions
Paying for self only
Refund Policy
If we do not hit our goal of 12 people by Feb 15th you get a full refund. If you want a refund after Feb 15th you can still get one up until the day the day of the first workshop. After that no refunds.
About Jacob
Jacob got into gymnastics when he was sixteen and ended up teaching for ten years. In 2010 a friend introduced him to acro and he fell in love with this art form right away. He loved how all acrobatics moves are like puzzles which you work out with your friends. Jacob is known for making dozens of washing machines and for putting hundreds of videos on acrobatics on his YouTube channel. In 2014 Jacob became a certified Acro Revolution Teacher in the first ever class of 2014 and in 2017 he helped to teach the 7th Acro Revolution Training. Jacob and Debbie have been doing acro for seven years, teaching together for six years, and have been a couple for four years. They have taught all over the world, from Divine Play to South America to the Israeli Acro Convention.
About Debbie
Debbie started taking gymnastics when she was a kid. Thanks to her training in her youth, she has the strength, balance, and poise to make partner acrobatics very beautiful. Debbie's long straight legs and pointed toes are the envy of the acro world. Debbie loves the connection and flow she can find with a partner. She can forget about the whole world while flowing in complex acrobatic movements. She has a talent for teaching. Students say that she is sweet and has a good eye for form. She loves practicing until she gets a move perfectly and she has made many of her own new washing machines. In 2017 Debbie became a certified Acro Revolution Teacher. They both live in Springfield, Oregon, USA.