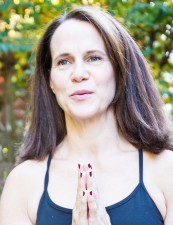 Diane Boothroyd
Unlike many acroyogis, it was not love at first flight, but something else that kept Diane coming back. The camaraderie, laughter, interaction and "wow" factor of acro reawakened her childhood love of playing upside down. By learning to trust in her body and others she faced and overcame many fears; acro improved her body awareness, body image, self-confidence and playfulness. As a teacher Diane brings a patient, encouraging voice. Her goal is to build safe and knowledgeable acro communities, helping students learn and refine acro fundamentals so they can unleash their creative play in new and imaginative ways. A reformed corporate 9-to-5er turned yoga teacher-inversion junkie, Diane is continually exploring her own physical limits; she knows from experience that much more is possible than can be imagined. Diane has been practicing yoga for more than a decade, and finished her 200hr YTT in 2012. She is a certified AcroRevolution teacher.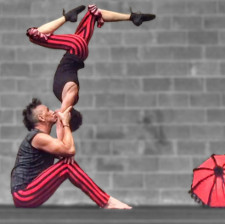 Danny & Aniane Smith
Danny & Aniane (The AcroSmiths) are a dynamic acrobatic duo. They have been married nearly 30 years, and love to share the joy of partner acrobatics. They met in the mid 1980's in Germany while Danny was stationed there in the U.S. Army. They fell in love with partner acrobatics after attending a workshop with Todd Delaune who became their first teacher. They continue to hone their skills and knowledge of acrobatics by attending numerous workshops and trainings through out the US. They received their AYFit certification in 2016. Danny is a licensed massage therapist, and Thai Massage practitioner.
Buddy Smith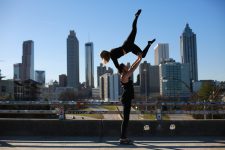 Buddy began his movement journey in 2014. As an acroyogi, he found connection, trust, strength, and community. He began practicing AcroYoga several times a week, backed by the Atlanta AcroYoga community. In 2016, he attended an AcroYoga event in Austin and met the YogaSlackers. Buddy found the challenge of stillness on the line inspiring, and decided that this practice was a great compliment to his AcroYoga practice. He began slacklining as often as he could, and joined the YogaSlackers in September of 2018. Buddy also trains in handstands, Aerial silks, and aerial straps. Each movement practice expands his abilities as both student and teacher.