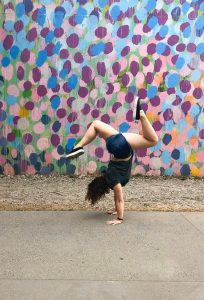 Are you eager to try handstands, but need some guidance? Have you been practicing handstands, but don't know what's stopping you from finding the balance or you're afraid to practice without a wall?
In this workshop, you will be given a set of tools to add to your toolbox so that balancing on your hands can become a reality. You'll learn things like strength building exercises, handstand alignment, shoulder openers, partner spotting techniques, and how to bail out of a handstand safely and comfortably. There will be options for all levels of practice, no matter where you are in your handstand journey.
Come learn about and practice handstanding from 6:00 – 7:30, then acro jam after.
Tickets below!