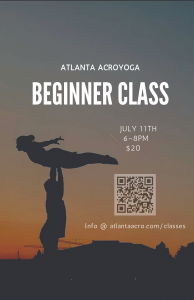 We are excited to announce the return of the beginner class!
This class will serve as an introduction to those who have never done AcroYoga before, and will offer refinements and harder variations for experienced acrobats. No partner required but you're welcome to bring one. This class is appropriate to anyone with a willingness or desire to try Acro Yoga. You do not need to have any experience with yoga, cheerleading, gymnastics, etc.
Class is $20 for 2 hours of fun. Scholarships or gift tickets are available to those who need it.
Our venue has wonderful padded floors.
This class will repeat on the 2nd and 4th Sunday of every month.
COVID-19 Precautions: Attendance at this class is at your own risk. If you are more comfortable wearing a mask, you are welcome to do so. If you have concerns, you can contact your teachers through this page.