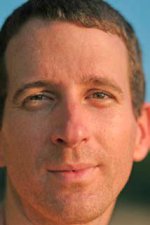 Todd Delaune
Todd's Acroyoga practice is rooted in over 15 years of practicing yoga and over 10 years of teaching. His first taste of acrobatics was in the fall of 2006 when he met a wonderful couple from FSU's circus school at The Hostel in the Forest. Completely hooked he founded the ever growing Atlanta AcroYoga community. A year later he trained with Jason & Jenny of AcroYoga® and later with Eugene & Jessie of Acro Yoga Montreal. Acroyoga has boosted his inversion practice, self-confidence, trust, communication skills, and love of life! His mission is to similarly empower others to help conquer fear, improve relationships, and find more joy! Todd has been teaching and performing Acroyoga in Atlanta since 2008 and currently teaches acroyoga classes at Intown Tumbling and workshops around the southeast.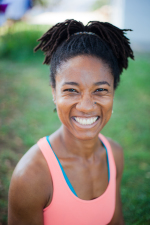 Fabienne Moore
Fabienne Moore, RYT, is a lifelong student of movement: dancer, high school cheerleader (that's right, full of spirit and proud of it!), and yogini. She is deeply kinetic and loves to share the joy of movement with others. She was first introduced to AcroYoga in 2010, when a student in one of her Anatomy & Physiology workshops offered to fly her after class. It was love at first flight and she has been a passionate AcroYogi ever since! Fabienne completed her 200-hour teacher training in Vinyasa yoga with Faith Hunter. Since then, she has studied a wide variety of disciplines including ParaYoga, Iyengar, and Adaptive Yoga. In addition to Acro, she is certified to teach Unnata® Aerial Yoga and is a devoted student of Lyra. Her diverse movement background lends grace and athleticism to her Solar practice. She holds a Doctorate in Medicine as well as training in Reiki (Level II) and Thai massage. Her thorough understanding of how the body works and experience with these healing modalities infuse her Lunar practice with a deep wisdom and sensitivity. She is thrilled to share this practice and support the growth of AcroYoga communities around the world! Her mission is to help others develop tools to reconnect with Joy.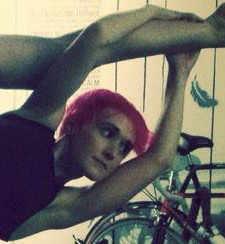 Charlotte Kilbourn
Charlotte was born in a fairy garden hundreds of years ago, but if the fairy police ask, she was born and raised in Florida. She discovered yoga as an incredibly uncoordinated teenager, and she fell in love with the fact that she could practice something athletic with virtually no equipment and completely barefoot. In 2012, she completed her 200-hour yoga teacher certification at Konalani Yoga Ashram in Kailhua-Kona, Hawaii. One short year later, she discovered acro yoga at Ember Yoga in Woodstock, Georgia, and she found her other passion. Charlotte began practicing acro regularly under the direction of Porch and Todd Delaune, and she took over the acro jam at Ember a few months later. It was love at first sight when she began to teach beginners and connect new people to the acro practice and growing community. She now teaches partner yoga workshops at Thunderbolt Power Yoga and beginners classes at Intown Tumbling, and she loves finding out more about acro, herself, and her students with each and every class. She hopes to remain a student forever and never stop learning throughout this process. And she hopes to keep getting to do weird yoga things on people's feet.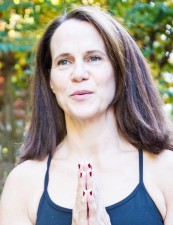 Diane Boothroyd
Unlike many acroyogis, it was not love at first flight, but something else that kept Diane coming back. The camaraderie, laughter, interaction and "wow" factor of acro reawakened her childhood love of playing upside down. By learning to trust in her body and others she faced and overcame many fears; acro improved her body awareness, body image, self-confidence and playfulness. As a teacher Diane brings a patient, encouraging voice. Her goal is to build safe and knowledgeable acro communities, helping students learn and refine acro fundamentals so they can unleash their creative play in new and imaginative ways. A reformed corporate 9-to-5er turned yoga teacher-inversion junkie, Diane is continually exploring her own physical limits; she knows from experience that much more is possible than can be imagined. Diane has been practicing yoga for more than a decade, and finished her 200hr YTT in 2012. She is a certified AcroRevolution teacher.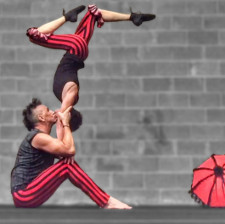 Danny & Aniane Smith
Danny & Aniane (The AcroSmiths) are a dynamic acrobatic duo. They have been married nearly 30 years, and love to share the joy of partner acrobatics. They met in the mid 1980's in Germany while Danny was stationed there in the U.S. Army. They fell in love with partner acrobatics after attending a workshop with Todd Delaune who became their first teacher. They continue to hone their skills and knowledge of acrobatics by attending numerous workshops and trainings through out the US. They received their AYFit certification in 2016. Danny is a licensed massage therapist, and Thai Massage practitioner.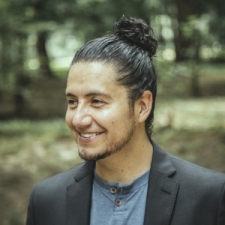 Yair Yepez
I started my body movement arts journey in 2012 with Capoeira and Yoga. In the winter of 2014 I began my Acroyoga practice in Atlanta with Todd Delaune and Fabianne Moore and have been practicing and learning since then. After 3 years of Acro, Gymnastics, Aerial silks and yoga in the Summer of 2017 I had the wonderful experience to participate in the Acroyoga Montreal Teacher training. Teaching Acroyoga in Atlanta, GA and all over the English, Spanish and Portuguese speaking world.